In comparison: interior roller blind vs. exterior roller blind
Which roller blind is suitable for what? Find out here in the text!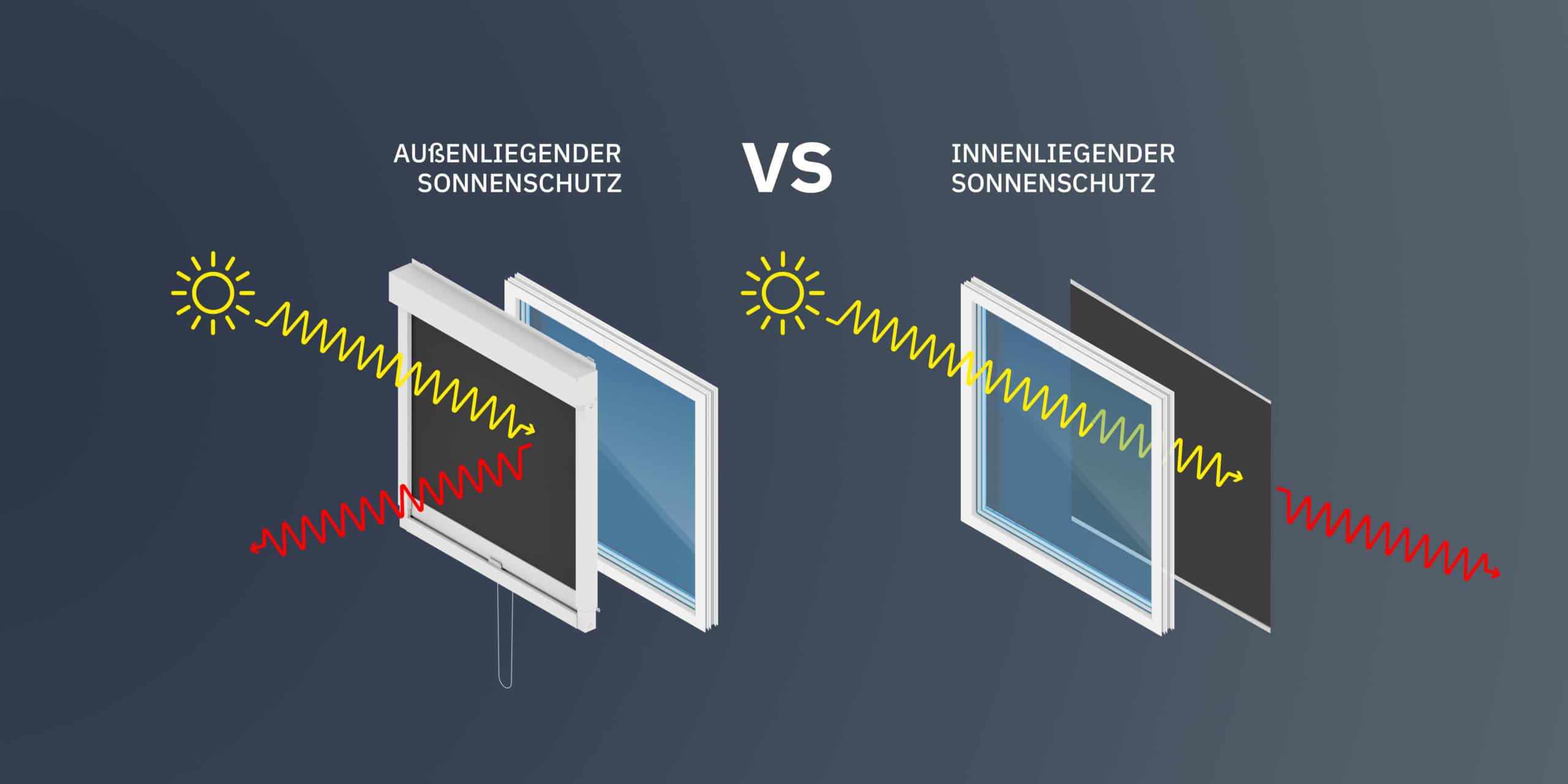 "Whether it's an interior blind or an exterior blind, what's the difference?"
FUNCTIONALITY

Heat protection
One of the most important functions of window shading is to keep your home cool in the summer. Depending on the age and thermal insulation properties of the window and facade, up to 80% of the total heat input into your apartment can be through the windows. In summer, this can lead to very hot temperatures. The room temperature can be reduced by up to 8°C if a suitable window shade is installed. Here, the external roller blind is clearly ahead - the internal roller blind, on the other hand, can even lead to a higher heating of the room than it is the case without any roller blind.
Privacy screen
If you're not into exhibitionism, you should install a suitable privacy screen on your windows, especially during the dark season. As soon as the light is on in the apartment and it is brighter inside than outside, curious glances can easily explore the inside of your apartment. Suitable remedy is offered here both the interior and exterior blinds. The only important thing is that the fabric is opaque. In technical jargon, this is referred to as a transmission of less than 1%!
Darkening
Whether night shift, party or binge-watching - if you don't get your sleep at night, you like to get it during the day! For this, it should be as dark as possible, because otherwise the body does not produce melatonin, which is indispensable for a restful sleep. Here, too, the rule is: Roll down the blinds - whether indoors or outdoors. However, it should be a roller blind with lateral guide rails and it should be as close to the window as possible, because otherwise a lot of light still passes by the side of the roller blind.
DESIGN

Tastes are different - so to evaluate the design and appearance is not easy. We have tried to weigh the objective criteria for and against interior and exterior blinds.
The fabric
For interior blinds, there are a lot of different fabrics, as the requirements for the fabrics are also very low. You can order your desired color or pattern at no extra charge. For outdoor roller blinds, the choice is much smaller - here there are mostly plain fabrics in inconspicuous colors. This point goes to the interior roller blind.
Cassette and handle
For the cassette, shaft receptacles and handle strip, the more discreet the fancier. Especially interior roller blinds have many plastic components that do not look very valuable. Since higher demands are placed on exterior roller blinds, the parts are usually also of higher quality - which contributes to a more chic look. In general, however, the following applies to roller blinds: the more inconspicuous the better. Here, of course, the exterior roller blind has the edge, since it is usually not noticeable from the inside at all!
ASSEMBLY
There are various installation methods for both interior and exterior roller blinds. Indoors, practical clamping or adhesive solutions are often used under the umbrella term roller blinds without drilling. These have the advantage that you do not need a specialist for this and neither windows, nor masonry damaged. In general, the installation of an interior roller blind is much easier than that of an exterior roller blind.
The installation of external roller blinds usually has to be done by means of screws and dowels. Outdoors, roller blinds are exposed to wind and weather and must withstand these loads for several years. Since outdoor roller blinds are of course also mounted outside, scaffolding is often required for installation. Furthermore, either a 230V power connection for the roller shutter motor must be available or a hole must be drilled to the interior for the roller shutter belt. All this makes the installation very complex and should rather be done by a professional. An exception is the CLIP'N'SHADE external roller blind for clamping represents. This can be easily ordered online and mounted yourself - without drilling. The installation is done by means of clamping system and thus comes without drill, dowel or screws.
CONCLUSION

Interior roller blinds are suitable for those who are looking for a design-oriented and rather less functional solution. However, the interior roller blind provides privacy just as well as an exterior roller blind - provided you buy the right curtain. The installation is relatively easy and the price of high-quality interior blinds starts at about 30€ per window.
The external roller blind is the comparative winner when it comes to heat protection and discreet appearance. Due to various standards (e.g. DIN 13561), exterior roller blinds are also fundamentally of higher quality in terms of quality and workmanship. For this, you have to dig a little deeper into your wallet. Except for few exceptions the assembly is rather to be left to the specialist.
TABLE: DIFFERENCES AT A GLANCE
Interior roller blind
Exterior blind
Function: Heat protection
No
Yes
Function: privacy screen
Yes - Depending on type of hanging
Yes - Depending on type of hanging
Function: dimming
Depending on hangings, but only
for lateral guidance).
Depending on the hanging
Visibility
Always
Only when extended
Price
From €30
>250€
CLIP'N'SHADE from 149€
Quality
Inferior to good
high-quality
Material of the roller blind box
Plastic / Aluminum
Aluminium
Curtain material
Fabric, slats, pleated blinds
Fabric, slats, roller shutter curtains
Fixing method: Adhesive
Yes
No
Mounting type: Drilling
Yes
Yes
Mounting type: clamps
Yes
No - Except CLIP'N'SHADE
Self-assembly possible?
Yes
No - Except CLIP'N'SHADE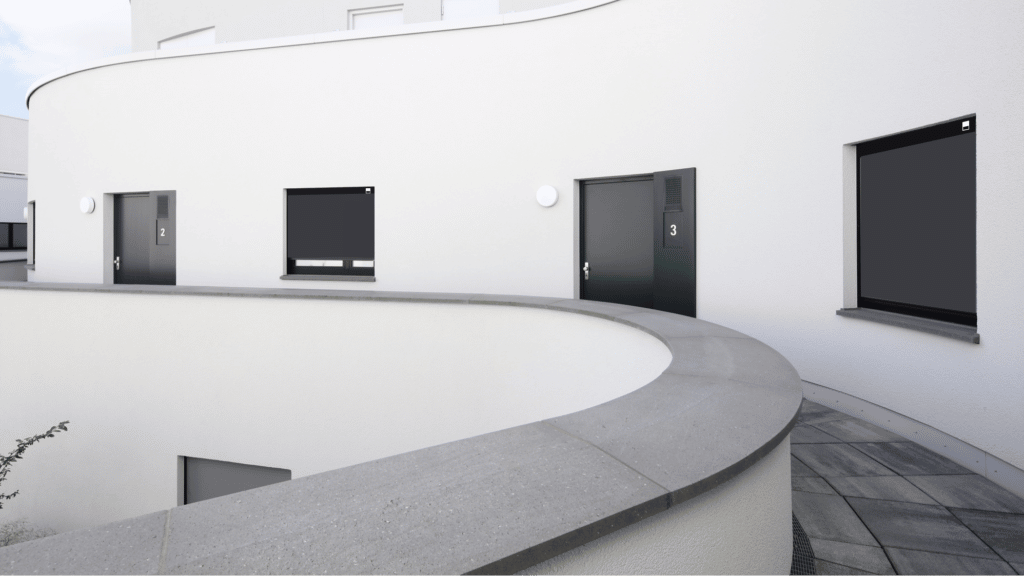 You want an easy to install outdoor roller blind that effectively protects against heat? Then we have the ideal solution:
The CLIP'N'SHADE outdoor roller blind without drilling!
Easy to order and install! 
Do you have questions about the article or the product?
Your contact
Richard Koch
Marketing and Sales
Phone: +49 (0) 9391 20-5610
E-mail: richard.koch@clipnshade.de
Address
ClipnShade GmbH
Dillberg 14-16
97828 Marktheidenfeld