Free shipping within Germany
Buyer protection with PayPal and Klarna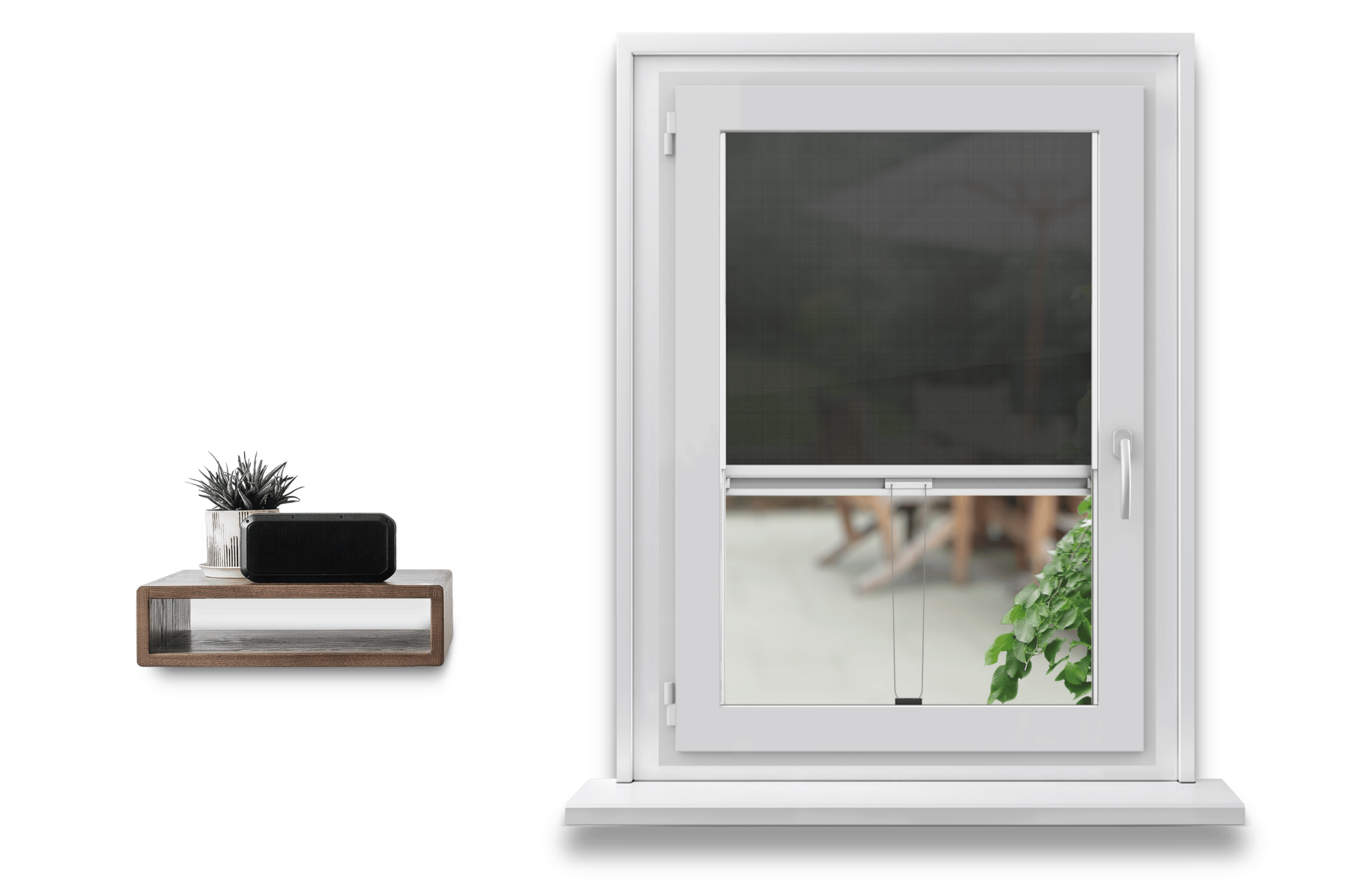 Effective heat protection that keeps the heat out



Easy mounting without drilling

Ideal for tenantssince
Residue free degradable

Super fast & easy
configured online

Delivery from Germany
in 3-10 working days
Select frame colour
Robust and powder-coated aluminium frame for high resistance in contrast to plastic.
Select fabric type
Air-permeable, abrasion-resistant and water-repellent heat protection fabric.
5.000+ satisfied customers and 300+ positive reviews
The decisive advantage with CLIP'N'SHADE
The 3 main advantages compared to ordinary interior blinds
Heat protection
Our outdoor roller blind offers first-class heat protection in summer. Due to the special heat protection fabric, the apartment remains up to 8 - 10 °C cooler compared to an interior roller blind.
The interior roller blind can even act as an additional heater in summer when exposed to direct sunlight. Especially if it is a dark fabric, it can heat up to 60 °C.
Quality
We manufacture our outdoor roller blind exclusively from high-quality and durable materials. The roller blind housing consists of extruded aluminum profiles up to two millimeters thick. The plastic connecting elements are UV, heat and weather resistant, as is the sustainable heat protection fabric. This has been awarded the OekoTex 100 Standard eco-label. Interior roller blinds often have a "cheaper" finish, as they are not exposed to the weather.
Sustainability
Our outdoor roller blind is 100% manufactured in Germany. This keeps the transport distances short and reduces the CO2 footprint significantly. The shipping to the customer is climate neutral with DPD and the packaging consists of 99% recycled cardboard. Many other roller blinds have a long transport route from China and are often packed in plastic.
The high quality of our roller blind also leads to a much longer durability than that of many conventional interior roller blinds.
Our smart outdoor blind without drilling and against heat
Save yourself the constant "window open - window closed". Now there is the retrofittable smart motor component for your CLIP'N'SHADE outdoor roller blind. With it, you can not only conveniently control your outdoor roller blind at home at the touch of a button, but also on the go via app!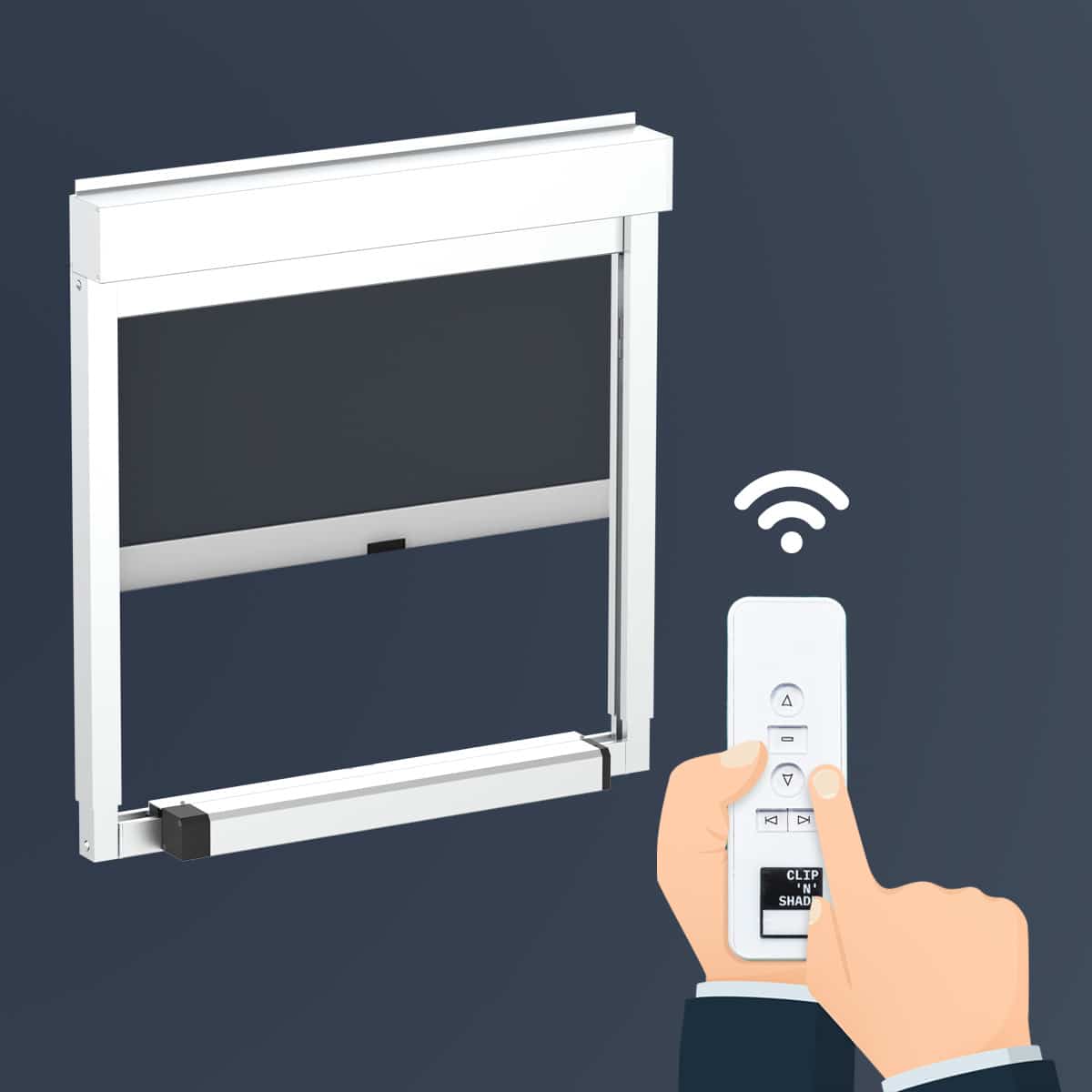 Exterior or interior blind?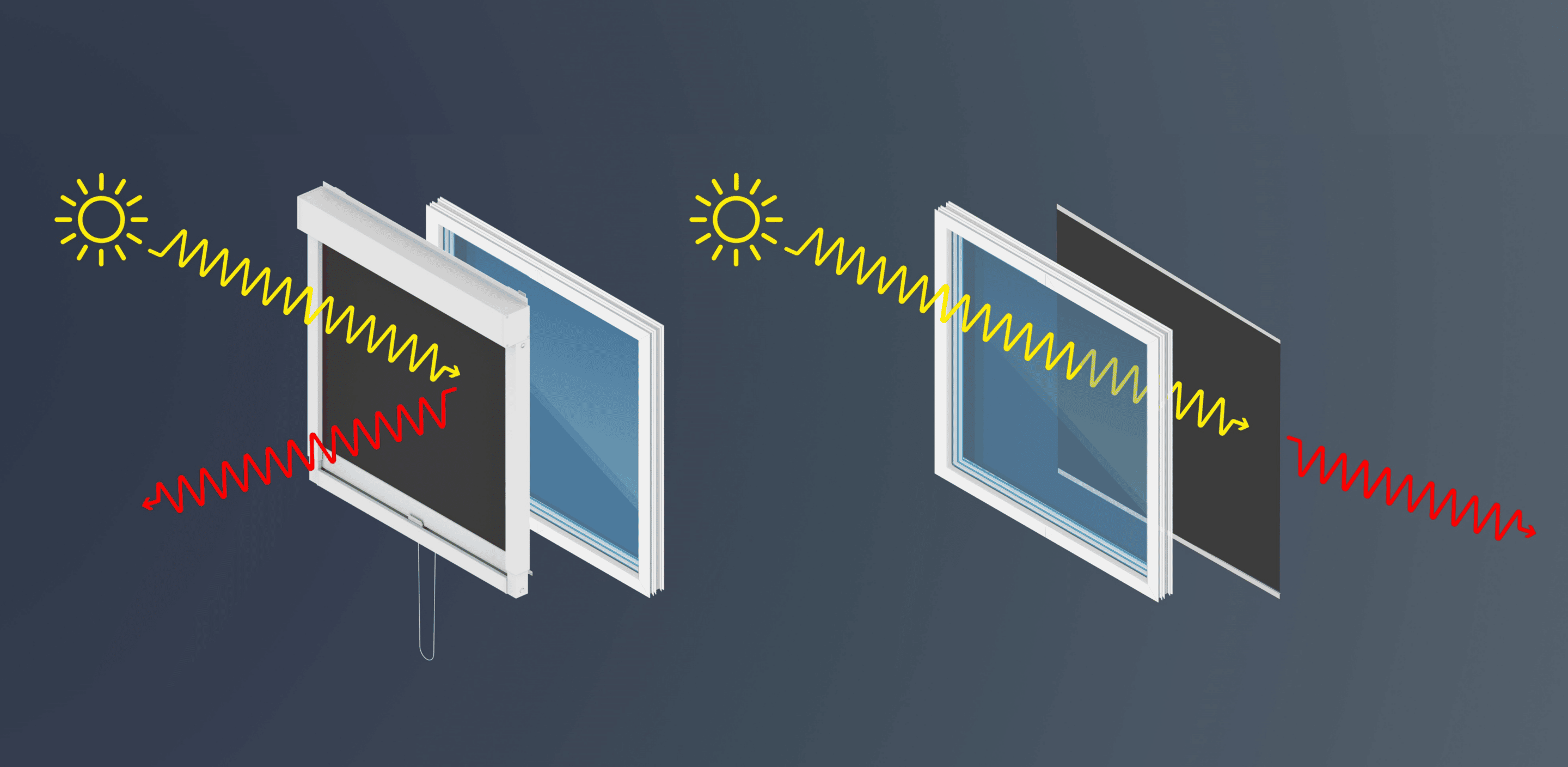 WHICH ROLLER BLIND FOR THE IDEAL HEAT PROTECTION?
Much of the heat entering apartments comes through the windows. An external roller blind or external blind stops the (heat) energy of the sun already before it enters the apartment. Interior roller blind s or interior venetian blinds have the problem that the sun's rays have already come through the window, where they are blocked by the Roller blind absorbed by the roller blind or the venetian blind.
More
Disadvantages interior roller blind: Especially dark interior roller blinds or venetian blinds heat up extremely and act more like a heater instead of cooling the room. Even light-colored fabrics only actually reflect a small fraction of the energy radiation back out the window. The rest is absorbed by the surroundings and thus warms the apartment.
Advantages of the CLIP'N'SHADE external blind: Our external blind , on the other hand, reflects the sun's rays even before your glass pane and keeps your home cool in the summer! For this reason, we recommend the installation of a external blind or the external roller blind from CLIP'N'SHADE for an ideal sun protection on the window outside, whereby the installation of course works completely without drilling .
You can read more about this in our magazine article "In comparison: interior roller blind vs. exterior roller blind".
Info trailer: Outdoor roller blind without drilling
The advantages of our outdoor roller blind at a glance
Without drilling
The exterior roller blind is mounted on the outside of the window without damage by means of a clamping system.
Delivered in a flash
You will receive your order from Germany within 1-3 business days to your home!
Plastic-free packaging
Our packaging does not use any plastics at all and thus protects the environment.
Already preassembled
The cassette including the external blind
is already pre-assembled and delivered ready for use
No own tools necessary
All necessary tools and aids for the installation in your window are included.
Certified product
Our outdoor roller blind is tested and certified according to DIN13561 for heat, cold and wind.
Exterior roller blind for retrofitting
Easy mounting - without drilling
Scope of delivery
Your already preassembled CLIP'N'SHADE external venetian blinds is delivered to you in a compact, resource-saving and plastic-free package. This contains four easy-to-assemble components, as well as:
1. Assembly aid
2. Adjustment aid
3. Suitable tool
Our Exterior blind you can easily retrofitted and without drilling on the outside of the window without drilling, to provide ideal sun protection to get.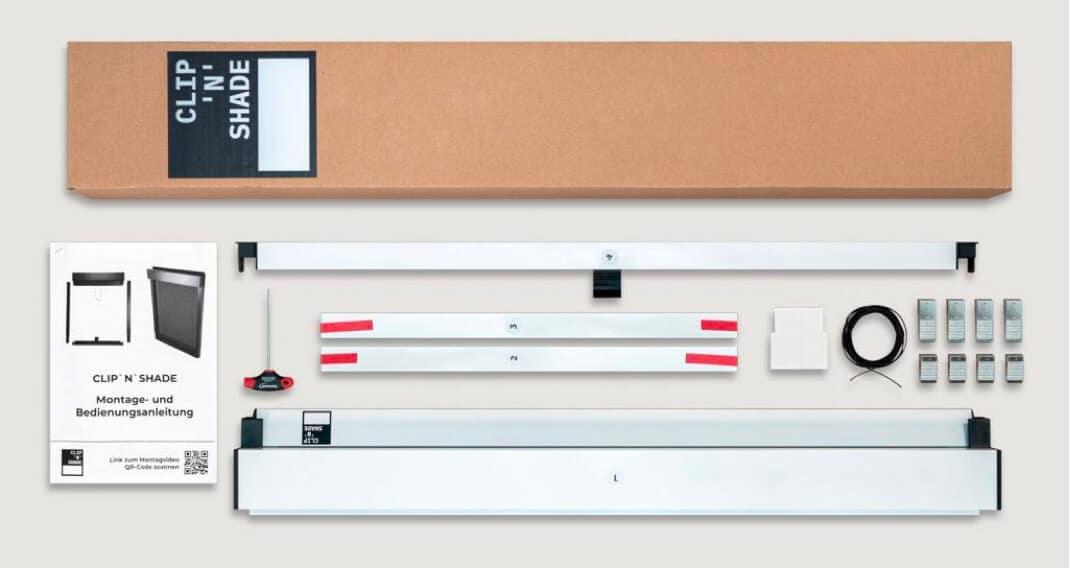 Frequently Asked Questions (FAQ)
Why is an exterior blind more effective than an interior sunscreen?
Interior roller blinds serve primarily as privacy screens and to darken the living space. However, since the sun's rays are only stopped behind the window pane, interior roller blinds are hardly suitable as heat protection
An interior roller blind with dark fabric even acts like an additional heater, as the fabric heats up strongly in the sun. External roller blinds already reflect a large part of the sun's radiation before it can even enter the flat.
Is the transparent fabric as effective against heat as the opaque one?
Both the transparent and the opaque fabric protected very effectively against heat .
The transparent fabric has the added advantage that when the external blind is closed, you do not need artificial light inside. This not only saves electricity costs, but also creates a beautiful atmosphere in the room.
How effectively does the CLIP'N'SHADE protect against heat?
The CLIP'N'SHADE is specially designed against heat and stops between 90% - 95% of heat radiation before it can enter the home
Why is CLIP'N'SHADE more effective and sustainable than all substitutes?
Electric-powered devices such as air conditioners, fans or air purifiers with cooling function consume a lot of energy to achieve a cooling effect. In the case of air conditioners, this also produces warm exhaust air, which only shifts the heat problem to another location. Fans, air conditioners, etc. are expensive to run, pollute our environment with their high power consumption and are often the cause of health complaints (colds, conjunctivitis, headaches).
Indoor roller blinds darken your apartment, but have no cooling effect.
Sun protection films are difficult to apply to the window and permanently darken your home - even in the cold autumn and winter months.
How to fix the outdoor blind?
The individual components of CLIP'N'SHADE can be plugged together without using your own tools. Then the sun blind is placed in the window frame and fixed with our tested and proven clamping mechanism. You can find more details about this in our assembly video and in our assembly instructions.
Does the CLIP'N'SHADE influence the thermal insulation or tightness of my window?
The outer seal will occasionally be slightly dented, but this will not affect the tightness of your window in any way.
Do I need to hire a handyman to install the outdoor blind?
Assembling the individual components and installing them in the window frame is child's play and can be done in no time at all. As a rule, our customers do not need a craftsman, even if they have limited manual skills. However, if you get stuck, we will be happy to help you with tips.