Making tenants happy with CLIP'N'SHADE
The outdoor blind with heat protection

Effective heat protection that keeps the heat out


No scaffolding or
tools necessary

Quickly and easilyinstalled
by the tenant

Attachment without damage
and reversible


Delivery from Germany
in 3-10 working days
The various advantages of CLIP'N'SHADE exterior blinds for landlords
Cost-effective upgrading of your property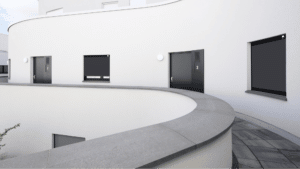 With our effective heat protection solution, you increase the living comfort for your tenants and thus enhance the value of your property.
Compared to alternative sun shading systems, your one-off investment costs are very low.
Only durable and maintenance-free components are used for the outdoor roller blind . This means that you will not incur any maintenance costs.
Min & Max dimensions: WxH 60×60 - 140×142 cm
Price: 99 € - 213 €
Modern unobtrusive design of CLIP'N'SHADE external blinds
Our slim profiles blend seamlessly into the façade appearance.
The housing of the external blind is available in white and anthracite to match 90% of all window colors used.
Damage-free and reversible assembly
The installation of the outdoor blind is done by means of a tested clip mechanism. Thus, installation is possible without drilling, without damage and without own tools .
A standard protective strip made of rubber prevents abrasion of the window material and keeps the external blind in place due to high static friction. Thus, the window profiles are also protected in the long term from damage by the external blind.
If required, the CLIP'N'SHADE outdoor roller blind can be completely dismantled within 5 minutes without leaving any residue.
Both installation and removal can be done easily from the inside - so you don't need scaffolding, ladders or lift trucks.
High Quality Made in Germany
The profiles are made of stable, durable and sustainable aluminium. These are processed with high demands on quality at our production site in Germany and assembled into an outdoor blind .
The product is tested and certified according to DIN 13561.
In addition, the external blind was subjected to various load tests. The blind was successfully tested in wind, heat (+ 60 °C) and cold (- 20 °C), as well as in a continuous load test with more than 6000 load changes within 2 weeks.
Simple settlement process
With our outdoor roller blinds you have the possibility to transfer the complete order processing from the dimension to the installation to your tenant.
No professional craftsman is required for installation - your tenants can easily install the product themselves. Due to the installation from the inside, no scaffolding is necessary.
If required, our service team will support you with all questions regarding the product, order or installation - always on weekdays between 7 am and 5 pm.
The CLIP'N'SHADE outdoor roller blind against heat is delivered within 1-3 working days and provides immediate relief - tenant complaints about a too hot apartment are thus history.
Select frame colour
Robust and powder-coated aluminium frame for high resistance in contrast to plastic.
Select fabric type
Air-permeable, abrasion-resistant and water-repellent heat protection fabric.
Frequently Asked Questions (FAQ)
Why is an exterior blind more effective than an interior sunscreen?
Interior roller blinds serve primarily as privacy screens and to darken the living space. However, since the sun's rays are only stopped behind the window pane, interior roller blinds are hardly suitable as heat protection
An interior roller blind with dark fabric even acts like an additional heater, as the fabric heats up strongly in the sun. External roller blinds already reflect a large part of the sun's radiation before it can even enter the flat.
Is the transparent fabric as effective against heat as the opaque one?
Both the transparent and the opaque fabric protected very effectively against heat .
The transparent fabric has the added advantage that when the external blind is closed, you do not need artificial light inside. This not only saves electricity costs, but also creates a beautiful atmosphere in the room.
How effectively does the CLIP'N'SHADE protect against heat?
The CLIP'N'SHADE is specially designed against heat and stops between 90% - 95% of heat radiation before it can enter the home
Why is CLIP'N'SHADE more effective and sustainable than all substitutes?
Electric-powered devices such as air conditioners, fans or air purifiers with cooling function consume a lot of energy to achieve a cooling effect. In the case of air conditioners, this also produces warm exhaust air, which only shifts the heat problem to another location. Fans, air conditioners, etc. are expensive to run, pollute our environment with their high power consumption and are often the cause of health complaints (colds, conjunctivitis, headaches).
Indoor roller blinds darken your apartment, but have no cooling effect.
Sun protection films are difficult to apply to the window and permanently darken your home - even in the cold autumn and winter months.
How to fix the outdoor blind?
The individual components of CLIP'N'SHADE can be plugged together without using your own tools. Then the sun blind is placed in the window frame and fixed with our tested and proven clamping mechanism. You can find more details about this in our assembly video and in our assembly instructions.
Does the CLIP'N'SHADE influence the thermal insulation or tightness of my window?
The outer seal will occasionally be slightly dented, but this will not affect the tightness of your window in any way.
Do I need to hire a handyman to install the outdoor blind?
Assembling the individual components and installing them in the window frame is child's play and can be done in no time at all. As a rule, our customers do not need a craftsman, even if they have limited manual skills. However, if you get stuck, we will be happy to help you with tips.
We will be happy to advise you!
Your contact
Richard Koch
Marketing and Sales
Phone: +49 (0) 9391 20-5610
E-mail: richard.koch@clipnshade.de
Address
ClipnShade GmbH
Dillberg 14-16
97828 Marktheidenfeld