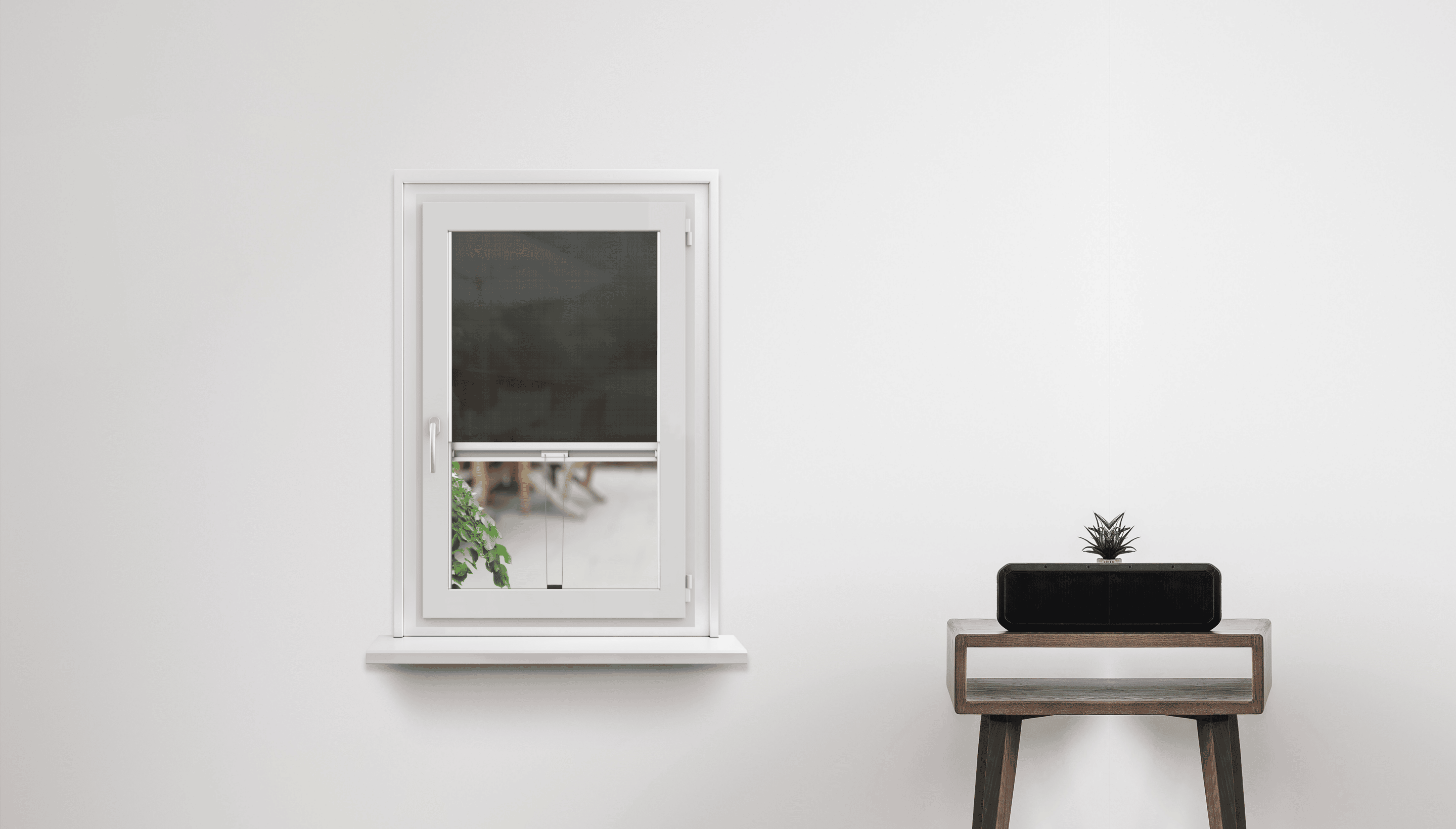 The external roller blind
for
retrofitting!
Advantages of CLIP'N'SHADE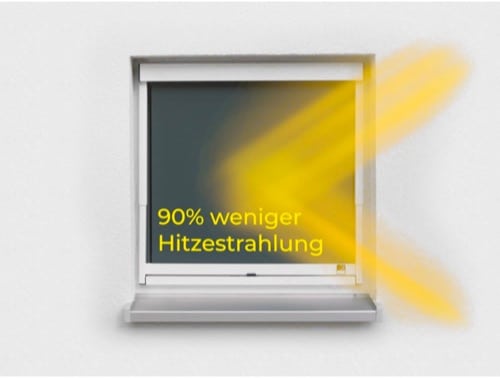 Perfect external sun protection
Since the CLIP'N'SHADE is installed on the outside, it stops about 90-95% of heat radiation before it can even enter the home.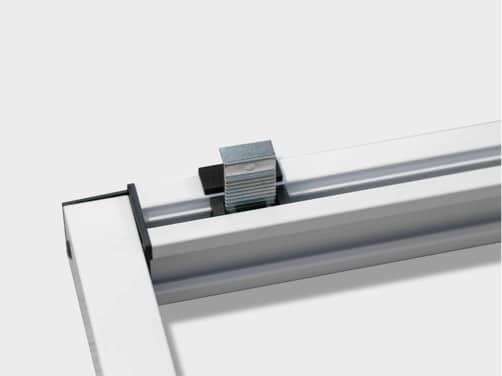 CLIP'N'SHADE adapts to the window
Thanks to the adjustable clips, as well as the telescopic guide rails, the CLIP'N'SHADE fits most windows between 60 - 140 cm in height or width.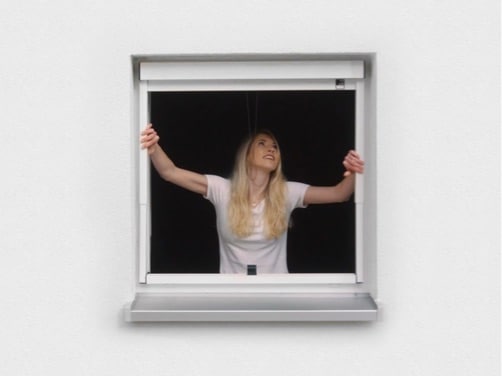 Easy mounting without drilling
Thanks to our intelligent, pre-assembled clip system, assembly is completed in about 15 minutes. The required tools are included in the package.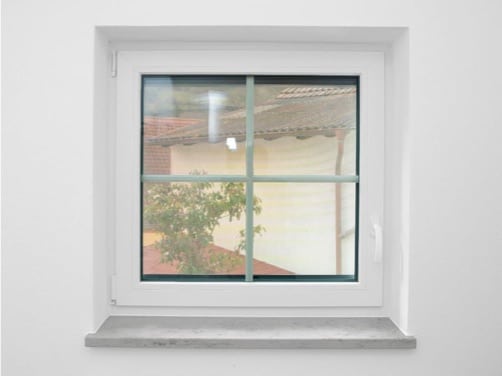 Exterior roller blind for retrofitting
Grid sizes instead of customised production

WHICH LOUVRE WIDTH FITS MY WINDOW?
Our CLIP'N'SHADE outdoor roller blinds are available in widths of 60, 70, 80, 90, 100, 110, 120, 130 and 140 cm. Due to the grid widths of the clampable roller blinds, we can offer an attractive price and ensure fast delivery.
Read more
Our configurator helps you to find the right screen width: In step 5 you will find out the suitable grid width. The height of the roller blinds is infinitely adjustable by telescopic guide rails. Due to the grid widths, it is possible that your external roller blind does not sit completely on the outside of the masonry opening and that it protrudes into the visible area when the window is open. However, when you close the window sash, the guide rail is usually covered by your window sash profile. This ensures 100% heat protection and a good appearance. Nothing stands in the way of an ideal sun protection !
High efficiency
To investigate the efficiency of the CLIP'N'SHADE external venetian blind , we carried out simulations under various conditions. The result: Without heat protection a one-room apartment heats up to + 31 °C, with the CLIP'N'SHADE external blind the temperatures remain at a pleasant 23 °C. In practice, we have already convinced some test customers of the effectiveness of our external blind before the market launch - for more info, check out our reviews.
90 - 95 % of the heat radiation is kept out
Temperature reduction by 8 °C*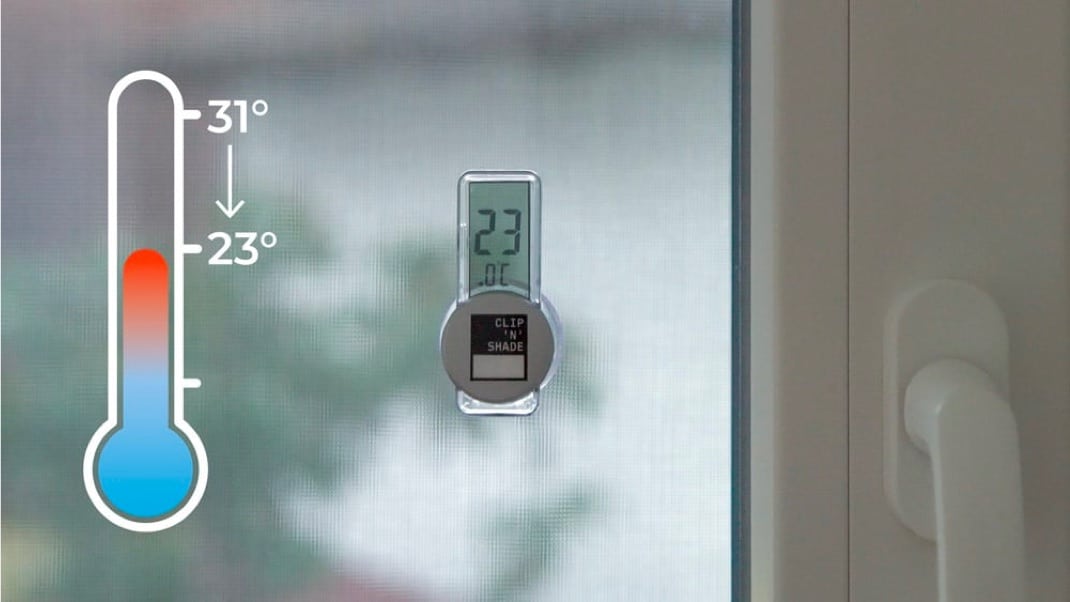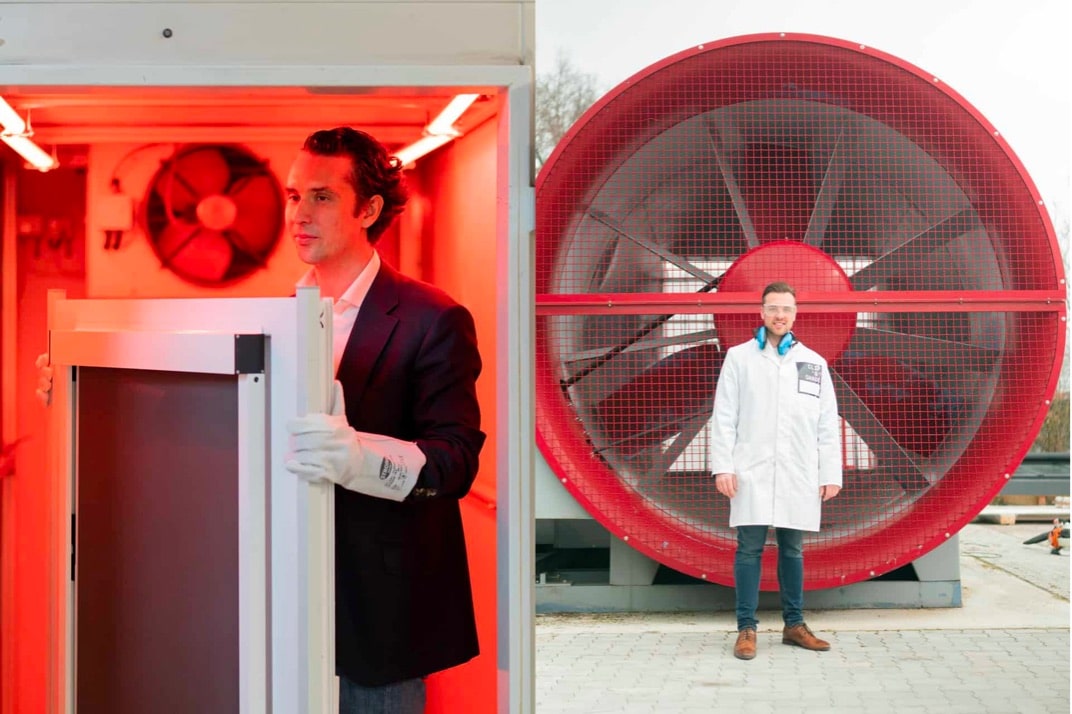 Tested and certified
Heat? Cold? Wind? No problem for CLIP'N'SHADE. Our outdoor roller blind is certified and tested according to DIN 13561. We have exposed the product to various environmental influences in the wind tunnel, a cold and heat chamber as well as a continuous load test. Furthermore, we use only high quality and certified Oeko-Tex fabrics.
Successfully tested at:
Temperatures from - 20 °C to 60 °C
A continuous load of more than 2,000 load cycles
Durable and resistant
The CLIP'N'SHADE is made of high-quality aluminium profiles. These are extremely robust, durable and thus sustainable. Both the grey and the white model have a powder coating that is highly resistant. This isUV-resistant, as are the plastic parts used . 
Aluminium instead of plastic
Powder coating instead of painting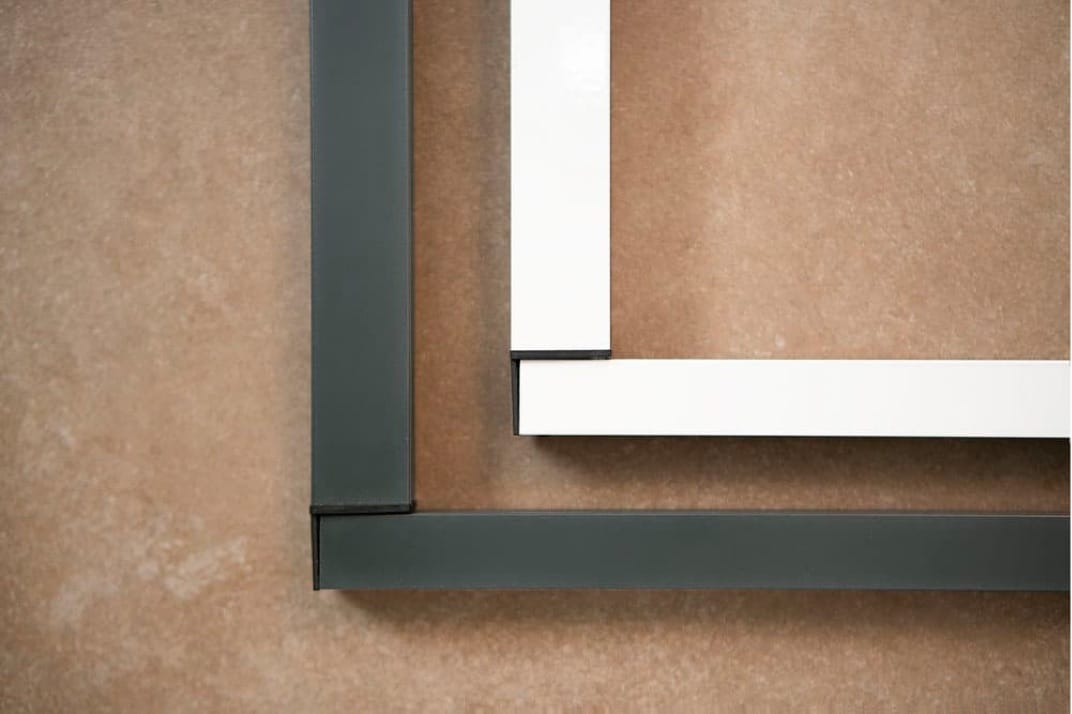 Your perfect sun protection
With our ProMesh fabrics you have the choice of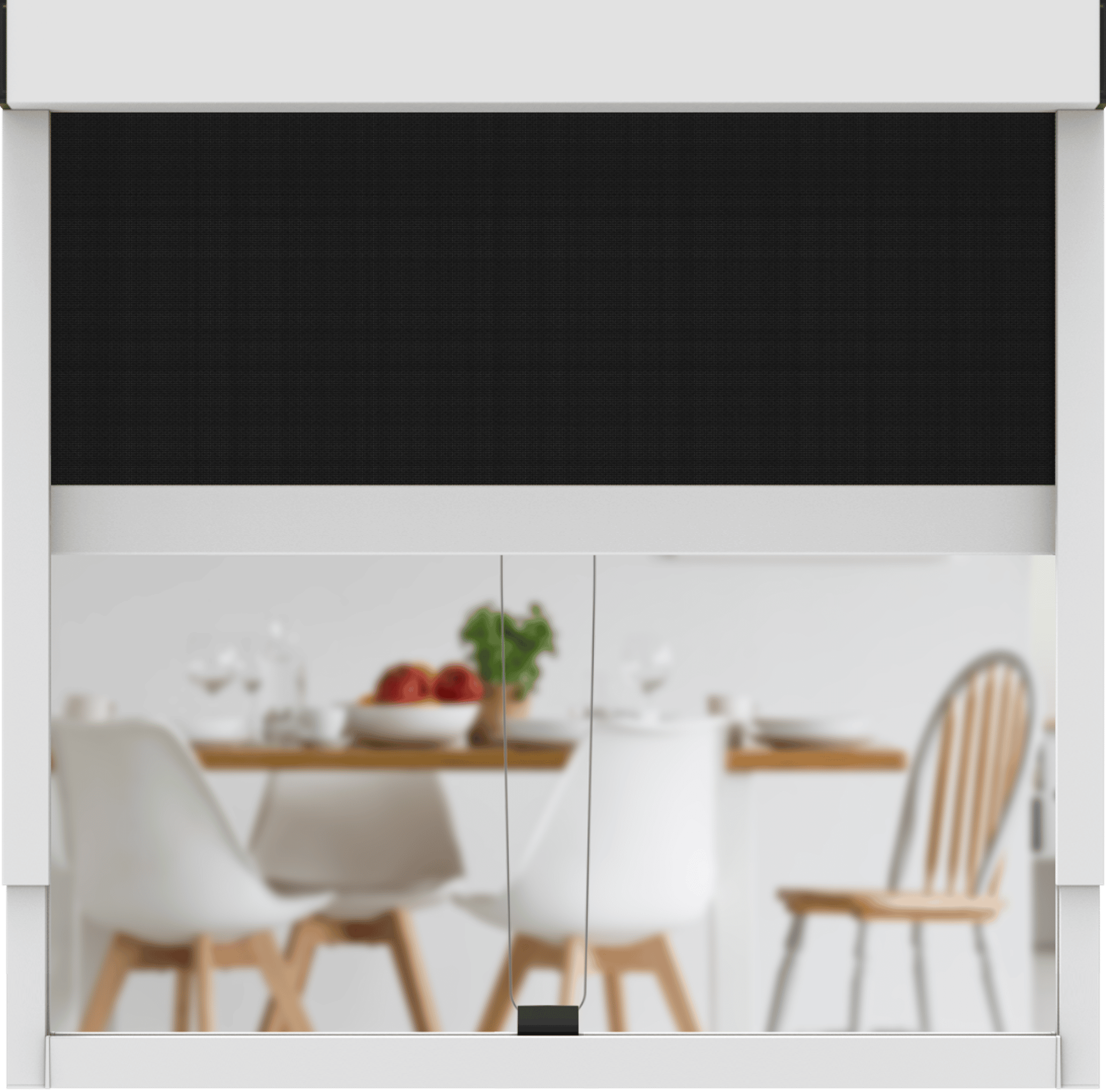 Opaque
Ideal for the bathroom and bedroom
Effective heat protection > 90
Darkening by approx. 90%
Privacy screen
Glare protection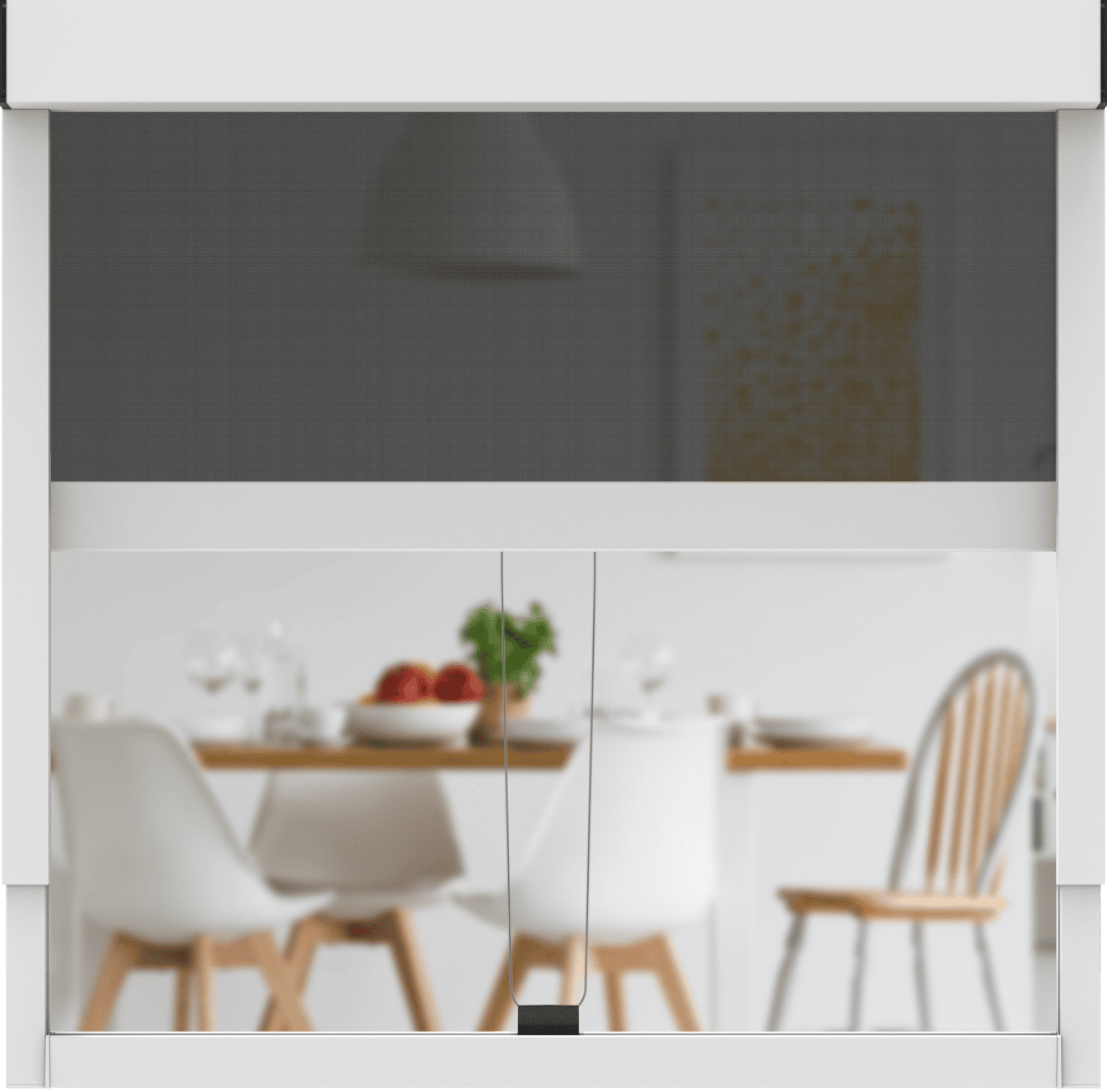 Transparent
Ideal for living room, office or kitchen
Effective heat protection > 90
Darkening by approx. 50%
View to the outside
Use of daylight
Air circulation
You can choose between a transparent fabric and a completely opaque fabric. If you are unsure about the right material, you can order a color and fabric sample free of charge and without obligation.